Description
The machine comes with an energy efficient special inverter motor that operates on lower vibration and noise.
Ensure better and tailored care for your clothing by choosing from 18 wash programs.
The machine treats your baby's delicate clothes with utmost care and rinses off all additional detergent to ensure softer clothes.
Experience intelligent washing with BPL front loading washing machine that comes with Add garment function, Clean Tub & Self Diagnosis
Pause-N-Add
Add clothes midway safely during the washing cycle with Add Garment feature. Machine makes sure to drain excess water when you choose this option and allows you to add clothes safely.
Clean Tub
The clean tub feature sterilizes the tub with 90 degree Celsius hot water and cleans every corner of the machine with strong water flow
Self-Diagnosis
In case of any error in the washing machine, it displays the error codes to help the technician recognize the issue and implement corrective action.
The BPL front load washing machine is equipped with a special inverter motor to provide an efficient washing experience over a variety of aspects.
Experience an efficient and intelligent cleaning process with the inverter motor. The smart inverter motor cleans clothes with lower noise, less energy consumption, lower vibrations, and results in long life of the machine!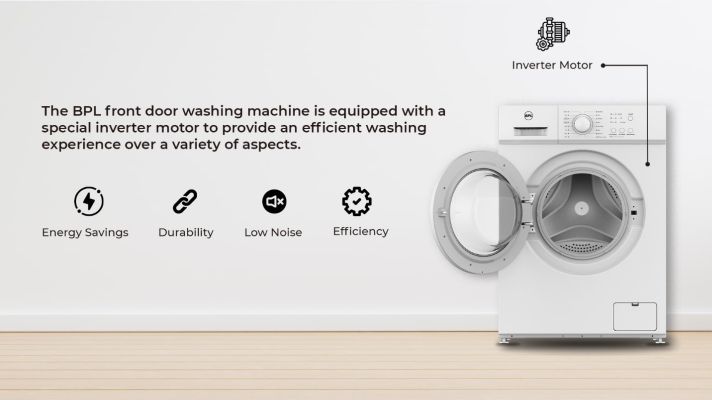 * This BPL BFW-7001MXCW Washing Machine is for illustration purpose only. Actual image may vary.