Description
Features
Intended to suit your needs and made to suit your hectic schedule, this gas stove has three burners which can be used for multitasking in the kitchen. All of these burners are made of brass which promises durability. The Pigeon Smart 3 Burner Gas Stove features exclusive pan supports which are particularly premeditated to help you comfortably place vessels on it. This stove's top surface is made of shatterproof glass which can sustain high temperatures. Its dimensions are 720 x 410 x 120 (approx.) (WxHxD – mm) and weighs 6.3 kgs.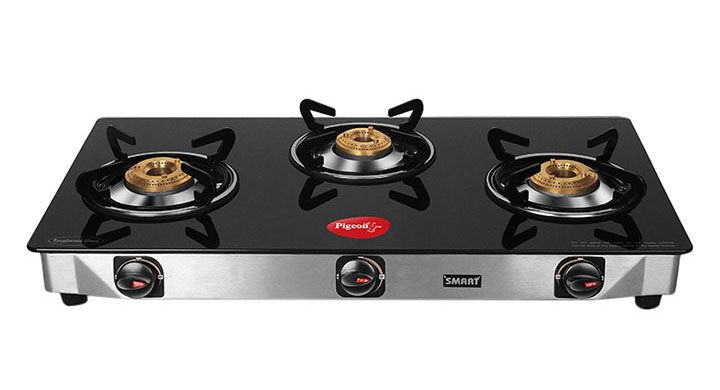 3 High Efficiency Brass Burners
Pigeon Smart has 3 extremely efficient and heat resistant brass burners. These are strong and have high quality knobs for precise control of the flame.
Stainless Steel Metal Base
This stove is designed with hardiness in mind. It has a strong metallic base for your ease.
Stainless Steel Drip Trays
It sports a stainless steel drip tray just under the burner. It prevents your kitchen top from staining and is easily retractable and hence cleanable.
Toughened Glass Cook-top
This stove top sports a stylish toughened glass cook top which is extremely chic as well as attractive. It is extremely easy to clean: just a wipe down and voila! It shines. It is also shatter proof and scratch resistant as well as heat resistant.
Powder Coated Pan Supports
This cook-top is equipped with 4×3 strong, sturdy and rust proof powder coated pan supports. They are designed to support heavy vessels without bending or yielding under their weight.  So go ahead and load up those vessels and cook your favourite food in wholesome quantities!
Warranty
This triple burner has a manufacturers' warranty for 2 years on the product unit.