Description
The images used in the product overview below are for representative purposes. Refer to the image gallery at the top of the page for an accurate representation.
8 million pixels
One-in-a-million picture.
Pure Colors are stunning in NanoCell TV's Real 4K. With around 8 million pixels, real 4K TV delivers picture that is noticeably sharper and more detailed than your standard HD TV. In NanoCell TV, Real 4K resolution is complemented with NanoCell technology for a 4K experience that surpasses international standards.
*'Pure Color' refers to colors refined by LG NanoCell technology.
Every color crystal clear.
LG NanoCell TV utilizes nanoparticles, our own distinctive Nano technology, to filter and refine color, removing impurities from RGB wavelengths. This means that only pure, accurate colors will be displayed on screen. The result is a more vibrant, more realistic picture that will bring your content to life.
*Conventional refers to LG's UHD TVs without NanoCell Technology.
This isn't just big. It's epic.
LG NanoCell TV maximizes your experience with an Ultra Large Screen. Movies, sports, TV, and gaming are more immersive than ever when viewed on our huge, high-resolution displays.
NanoCell Cinema.
Performance worthy of the big screen.
Pure Colors and a host of the latest display technologies bring the movie theatre into your home with LG NanoCell TV. Our enhanced HDR, Dolby's upgraded technologies, and a cinematic mode that's fresh out of the studio deliver a truly cinematic experience.
*Netflix streaming membership required. 4K Ultra HD availability subject to your Netflix subscription plan, internet service, device capatibilites, and content availibity. www.netflix.com/TermsOfUse
Entertainment
Home to all your favorites.
Access the Netflix, Disney+ Hotstar, Apple TV app, and Amazon prime video. Choose From the latest movies, TV shows, documentaries, and live sports, and find them all in one place.
*Netflix streaming membership required.
**Disney+ content available on Hotstar App.
***Apple, the Apple logo, and Apple TV are trademarks of Apple Inc, Registered in the U.S. and other countries.
****Apple TV+ requires a subscription.
*****Amazon, Prime Video and all related logos are trademarks of Amazon.com, Inc. or its affiliates. Amazon Prime membership and/or Prime Video fees apply. See primevideo.com/terms for details.
******Supported service may differ by country.
NanoCell Gaming.
TV with a ton of XP.
From the darkest caves to the brightest new worlds, LG NanoCell TV lights up your game with vivid colors. Cloud gaming technology and automatic adjustments for high-quality pictures deliver a truly exciting gaming experience.
Game Optimizer
Unseen levels of control.
All your games leveled up. Game Optimizer automatically adjusts picture settings, optimizing graphics and visibility, to deliver a better gaming experience no matter what type of game you're playing.
Xbox Partnership
An unbeatable combo.
Freedom to play. LG's partnership with Xbox ensures you're ready for next-gen gaming. Get the most out of your Xbox thanks to stunning picture quality and ultra-fast response times.
NanoCell Sport.
Match winning performance.
LG NanoCell TV delivers a thrilling match-day experience. Bluetooth Surround Sound brings the full stadium atmosphere into your home, while Sports Alerts keep you up-to-date with all the latest news from your favorite teams.
Sports Alert
Never miss your team play.
Sports Alert notifies you before, during, and after games. You'll never have to worry about missing the big plays from your favorite teams, even when you're watching other content.
*Usage may vary by country.
Bluetooth Surround Ready
A clear home advantage.
Easily connect Bluetooth speakers for a true wireless surround sound experience. All the action sounds richer and more realistic, bringing the big-game atmosphere to your living room.
*Speakers sold separately.
Intelligent Quad Core Processor 4K
Enhance everything you watch.
The processor removes video noise and creates more vibrant colour and contrast. Low resolution images are upscaled and reproduced at close to 4K quality.
AI ThinQ
Think you know smart?
Think again.
LG ThinQ is here to maximize your TV experience. Choose your favorite built-in voice assistant to control your TV with just your voice or browse through all the OTT apps for latest content and movies.
*Availability of services may vary with regions/countries.
New Home
Welcome to your new home.
Your days of endlessly searching for new content or old favorites are coming to an end. The home screen has been redesigned to show you everything worth watching, all in one place. Enjoy personalized content recommendations based on your watch history, quick access to a variety of content, and easier control of connected devices.
*Service availability may differ by region or country.
**Separate subscriptions required for OTT services.
New Magic Remote
More like a magic wand.
The redesigned Magic Remote has an ergonomic design that's easy to hold, and its point and scroll system allows faster searching. Built-in AI provides easy access to services, while hotkeys for major content providers give you shortcuts to all your favorites.
*The Magic Remote must support NFC to use the Magic Tap feature.
**Magic remote availability differs by country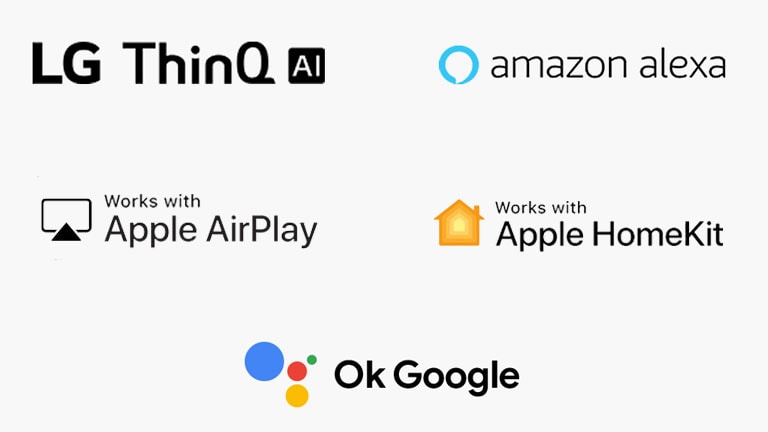 Voice Command
Your central hub of convenience.
LG ThinQ allows simple command and control of your Home IoT ecosystem with natural voice recognition*. With Google Assistant and Amazon Alexa built-in, you can control your LG NanoCell TV with your voice and access entertainment faster.
*Google is a trademark of Google LLC.
**Google Assistant is not available in certain languages and countries.
***Supported menus and apps may vary by country.
****Menus displayed may be different upon release.
*****Voice Command availability may vary by products and countries.
Virtually place true-to scale TVs. No app required. Try now!